Dear traders,
Our weekly Elliott Wave analysis reviews the GBP/USD 4-hour chart, the cryptocurrency Bitcoin 4-hour chart and the US30 daily chart.
Bullish GBP/USD price swing in wave 4?
The GBP/USD made a bullish swing of 500 pips. But despite the sharp rise, the price action is technically still in a downtrend. Let's review:
GBP/USD broke below the 1.20 round level but the bulls regained control quickly and unexpectedly.
The bullish price swing, however, appears to consist of an internal ABC pattern (yellow) within wave A (green).
Our Elliott Wave analysis therefore favors a bearish ABC (yellow) within wave B (green).
Wave B (green) could reach 78.6%, 88.6% or even the previous low (100%).
A larger ABC (green) bullish correction could complete a wave 4 (pink). This remains valid as long as the price action stays below the wave 1 low.
A break above the 1.2475-1.25 resistance zone would indicate a potential trend reversal or retracement.
A new downtrend could see targets at 1.1850, 1.1750, 1.1650 and 1.15.
BTC/USD struggling to find bullish legs?
Bitcoin (BTC/USD) hit the -27.2% Fibonacci target around the round psychological level of $20,000. Let's review the following for the main cryptocurrency:
BTC/USD is attempting to construct a bullish retracement but price action remains hesitant to move away from the 20k area.
However, it looks like the price action will complete a bullish ABC (green) in a choppy correction from wave 4 (pink).
The most logical target for wave C (green) of wave (pink) is the 38.2% Fibonacci retracement level, but sometimes price action can retrace deeper.
An upside break above the trend line (orange) and the 78.6% Fibonacci level renders the current bearish Elliott Wave analysis unlikely and invalid.
A choppy and long bullish correction is typical of a wave 4 and would confirm this expected wave pattern.
The downside target for wave 5 (pink) wave 5 (grey) wave A (purple) is around $17,500. A larger Wave B pattern could emerge from a larger ABC once Wave A is over.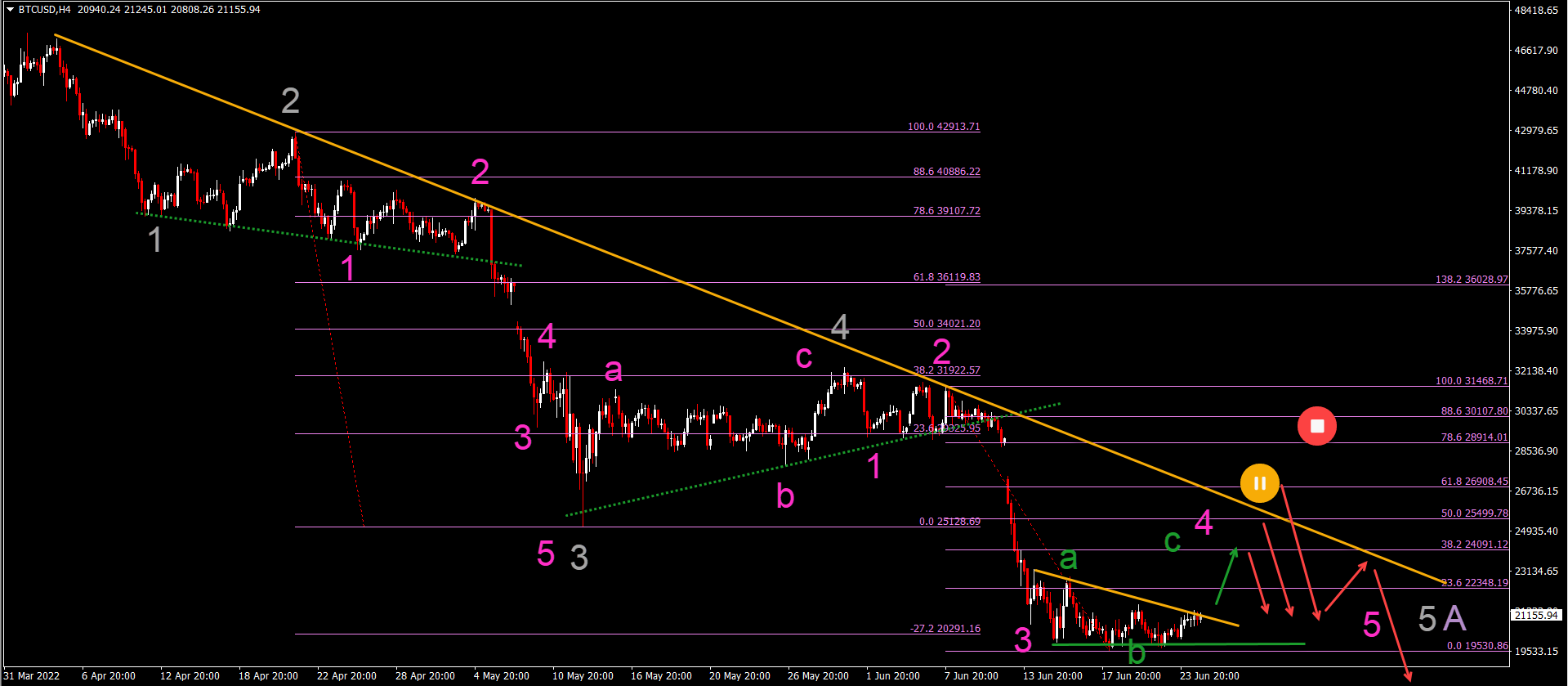 US30 Large Whipsaw but bearish remains in control
The US30 made a strong bullish bounce at the 23.6% Fibonacci retracement level:
The bullish rebound from the US30 could indicate a larger potential upside correction.
The price action, however, remains in a downtrend and the bullish bounce is likely a retracement.
The downside correction likely completed an A or W (pink) wave of a larger ABC or WXY (pink) correction.
If price action sets a higher low, then a bullish ABC (green) in wave B or X (pink) could see price action move towards resistance trend lines (orange).
A bearish bounce and a continuation of the downtrend should emerge in a broad complex wave 4 (blue).