FE REPORT |
Published:
Aug 14, 2022 8:44:58 a.m.



---
Electricity shedding across the country has intensified with the enforcement of a weekly staggering of holidays in industrial areas, it has been claimed.
The government implemented the new area rationing program from Friday to minimize the consumption of natural gas and electricity.
Customers have alleged that state-run distribution companies are failing to carry out the government's order to run daily one-hour scheduled load shedding per area, which is compounding public suffering.
Although the timing of load shedding is better in some urban areas, most city dwellers especially in Paltan, Mirpur, Gabtoli and Jatrabari regions witnessed the load shedding two to three times a day, they claimed.
Load shedding in some rural areas of the country is terrible as they experience several hours of load shedding a day, sources said.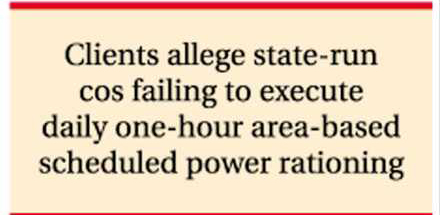 Most power distribution companies have yet to send short message service (SMS) to customers about load shedding schedules defying a government instruction.
It appears that the government's moves for a planned load shedding schedule have been done haphazardly.
As part of an ongoing austerity measure, all diesel power plants are now closed and load shedding is officially implemented from July 19 this year to reduce diesel imports and save foreign exchange.
Markets and malls are now allowed to remain open until 8 p.m.
The government has also banned lighting in different social gatherings in community centers, malls, shops, offices and homes since July 7.
Previously, on April 12, the government imposed a four-hour gas rationing for industries from 5:00 p.m. to 9:00 p.m. daily to save natural gas.
Although the initial decision was to continue gas rationing for 15 days, the government backed down and withdrew it 10 days after it was carried out amid protests from business enterprises.
[email protected]